Committed to Providing Safe, Secure and Comfortable Transportation Across North America
Schedule your next adventure today! Call us at (806) 863-3867!
King's Highway Charters & Tours
SAFE, SECURE TRANSPORTATION
If you're planning a cross-country trip, whether it be to Mexico, Florida or even Alaska, you need to call King's Highway. Our charter bus company, conveniently located near Lubbock, TX, has been providing safe, reliable group transportation since 1997, and we would love to help you plan your next trip.
We can transport your large or small group to the destination of your choice. We also plan six to eight charter bus tours per year and would be delighted for you and your group to join us on our next adventure.
Check Out Our 2023 Tours Today!
Traveling Has Never Been Easier
King's Highway of Lubbock, TX provides clean and luxurious tour buses for every trip we take. Our travelers are always treated with care, and we always aim to make each journey as smooth as possible. Traveling can be stressful, but on a charter bus from King's Highway, you're guaranteed to travel in comfortable, stress-free comfort. From seniors to church groups to large families, we can provide bus transportation for all types of groups.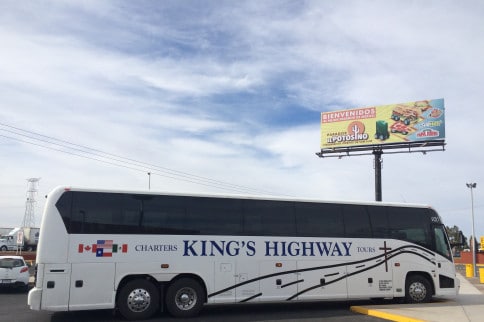 Past Tours
VIEW THE GALLERY PAGE FOR PHOTOS AND VIDEOS FROM PAST TOURS.
Embark On A Journey Today
This could be your year to take the trip you've always dreamed about. Make sure you have a safe, fun method of transportation by booking a charter bus with King's Highway of Lubbock, TX today. For more information about our buses and our planned group tours and trips, please call our office in Wolfforth, TX, today. We look forward to getting you on the road to your next adventure!
Click to leave us a Google review!
KING'S HIGHWAY
7511 68th Street
Lubbock, TX 79407
CALL US
Office: 806-863-3867
Toll Free: 888-332-4315
Emergency: 806-787-0017 | 806-787-9030
HOURS
Mon: 8:30AM-5:30PM
Tue: 8:30AM-5:30PM
Wed: 8:30AM-5:30PM
Thu: 8:30AM-5:30PM
Fri: 8:30AM-5PM
Sat: Closed
Sun: Closed